Here is a round up of the latest highlights from our repository that add improvements to Forem.
Editable Published Dates in Admin for Articles List
This PR adds functionality to posts by making published_at an editable datetime select option in the admin side of articles.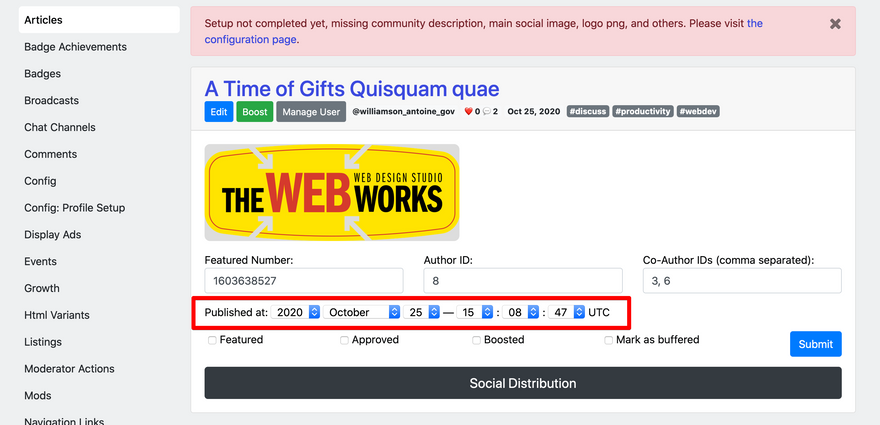 API Improvement for Organizations
This PR adds new API endpoints to get a list of an organization's users.
In the future we will also include an endpoint for an organization's articles and listings.
Bug Fix and Optimization for Deploys
In the past when we deployed Forem Cloud we did not retain assets for old versions of the platform, and service workers did not seem to reliably retain the in-memory cached version of asset.
This caused flashes of unstyled content and a few other frontend issues for people.
This PR adds more static assets to help with the frontend issues while also adding functionality to periodically flush the component of the serviceworker cache to make sure we don't over-cache.

Update Admin "Ban" and "Suspend" Language for Clarity
This PR renames "ban" to "suspend" throughout the /admin/ space. In the past we used "ban" and "banish" which caused some confusion.
Suspend more clearly implies a temporary nature.


You can see a full video walkthrough of the changes by one of our developers Arit Amana here.
Initial Accessibility Fixes
Forem is working with Marcy Sutton to improve accessibility on DEV and Forem in general.
This PR includes some of the initial accessibility issues encountered upon setup and improves color contrast on the site.
Fix For FaceBook Login
This PR fixes a bug with Facebook Login where you can't create an account because the profile image download process fails.
Improvement to Tag Mod Filtering
A Tag Mod pointed out that when filtering to their tag while in /mod they were not seeing the latest posts there. This PR removes the score filter for articles to the moderator's article index so they can view all articles including showing the newest posts first. This will make it easier for Tag Mods to moderate their tags.