Hello, Forem Creators!
As part of our commitment to make it easier to set up and launch a new Forem, we are excited to roll out the improvements below. We have drastically changed the initial user creation process for new Forem Creators, the initial configuration screens for a new Forem, and the manner in which images are handled.
Here are some timeline details our cloud hosted Creators should be aware of.
Today we are updating the logo images to accept png and jpeg instead of SVG. This is to give cloud hosted Creators time to adjust their images before they are visible on the visitor side of the site.
On 17 January the rest of the updates described below will go live. This will be most visible to Creators working through their initial setup.
Initial Creator User Creation
A Creator will be the first user on a Forem. As such, we wanted to make the process of setting up that user account easier and eliminate unnecessary steps as well as fields that were non-crucial prior to the Forem being fully set up (like preferences and profile settings). Now, that initial setup process is limited to the immediately necessary information. If the Creator has provided a SendGrid API key during their application configuration, a verification email will be sent, and the Creator will be logged in once the link is clicked in the email. If not, the Creator will be logged in automatically after setting up their account. This whole process greatly simplifies the initial user setup so Creators can start configuring their Forem from the jump.
Initial Forem Configuration
Once the Creator has logged in, they will have a personalized onboarding process that will assist them with setting up their Forem. This includes specifying their community's name, logo, brand color, visibility and login options, and agreeing to our terms of use. At this point, all the basic configuration of the Forem has been established.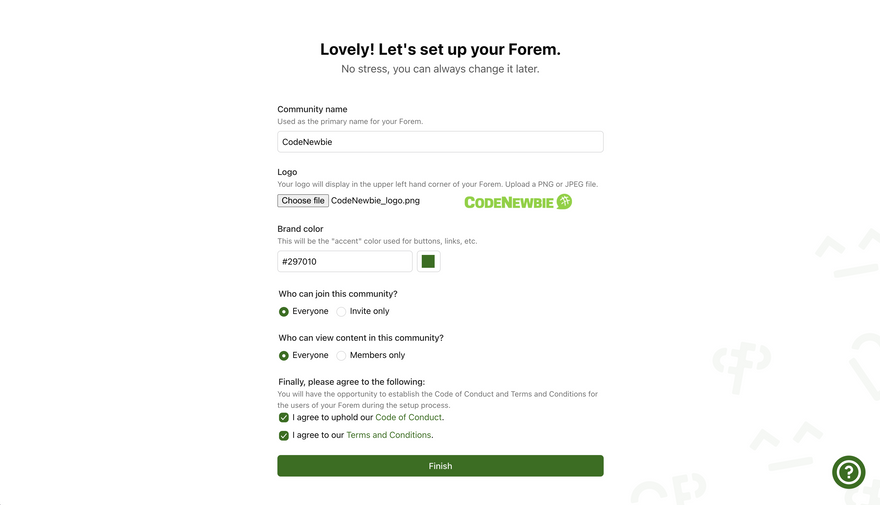 Images
As part of establishing the initial logo for the site, we had to make some overall improvements to our image management process. With this update, we now accept PNG and JPEGs through a simple upload process. We will handle image sizes and aspect ration for you as long as you meet the minimum requirements specified on each image. As part of this upgrade, we will convert all your images for you. Previously, these fields required either a URL link or the SVG markup – we are discontinuing support for SVG as it was a potential security risk because the ability to imbed a XSS attack.
Potential Breaking Change
In order to make the conversion of these images as easy as possible for our Forem Cloud Creators we have created a preview of what the converted image will look like with the opportunity to replace it before the entire feature goes live. To view your image and ensure it has the correct resolution, looks good in both dark and light theme, and visibility you want go to this area of your admin: /admin/customization/config#images and look at your converted image. This is the images area of the admin under config -> customizations. We will be updating all sites on the 17th of January.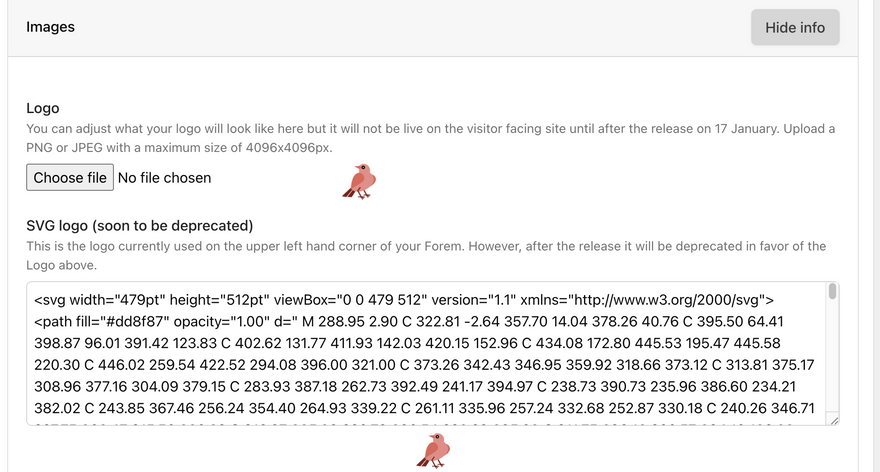 For our self-hosting Creators, we will attempt to convert the existing SVG markup as part of the upgrade. Please check out your logo immediately after upgrading to ensure it still looks good.
We look forward to hearing how folks enjoy this new update. Rest assured that this is only the beginning of the improvements to the usability of the admin screens and the setup process.