We're excited to announce that we have restructured the admin creator navigation to make it more accessible, useful to creators and extensible to developers for new features.
You can also view the demo here.
Just to refresh your memory, this is a screenshot of the creator navigation previously: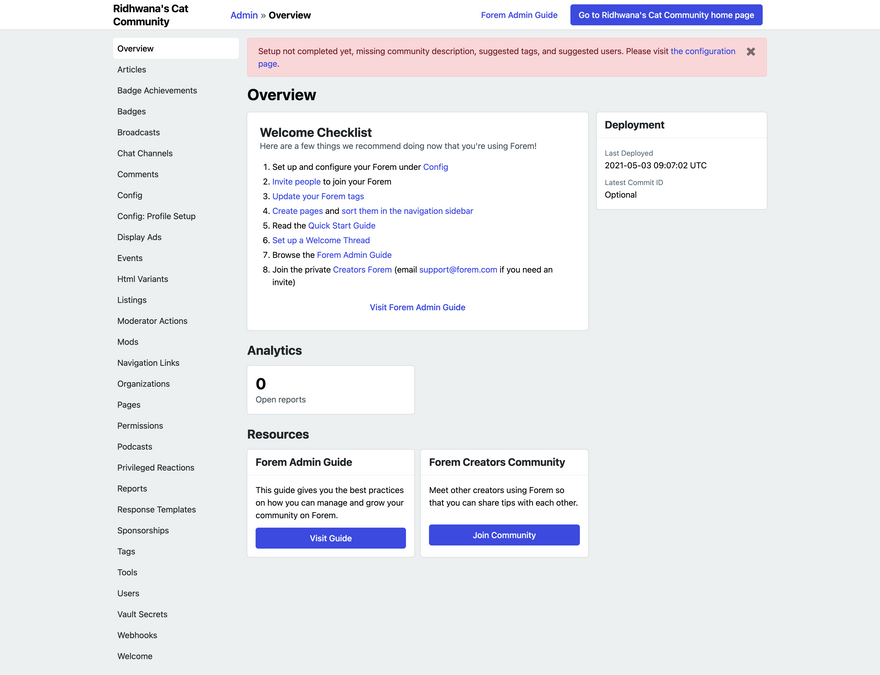 The new restructure introduces a logically grouped navigation in the form of menus at a first level and tabs at a second level (See GIF above for a visual representation). Consequently, we have updated the URL's of these pages to reflect this new structure. So, if you have any admin creator items bookmarked, please be sure to update them :)
This change creates a significant impact to the Forem creator user experience, because creators will now be able to make updates to their Forem with more ease and intuition.
If you are a Forem creator or admin you'll be seeing this update on your Forem soon. We're really excited to have you use and make updates to your Forem instance with this new restructure in place. Please look out for updates as we keep improving on the Creator experience in the upcoming weeks.
You can find the new list of the groupings below for your reference.
| Group | Item | Old URL Path | New URL Path |
| --- | --- | --- | --- |
| Overview | | /admin/overview | /admin/overview |
| People | | /admin/users | /admin/users |
| | Content Manager | Posts | /admin/articles |
| | Comments | /admin/comments | /admin/content_manager/comments |
| | Badges | /admin/badges, /admin/badge_achievements | /admin/content_manager/badges, /admin/content_manager/badge_achievements |
| | Organizations | /admin/organizations | /admin/content_manager/organizations |
| | Podcasts | /admin/podcasts | /admin/content_manager/podcasts |
| | Tags | /admin/tags | /admin/content_manager/tags |
| Customization | Config | /admin/config | |
| | HTML Variants | /admin/html_variants | /admin/customization/html_variants |
| | Display Ads | /admin/display_ads | /admin/customization/display_ads |
| | Navigation Links | /admin/navigation_links | /admin/customization/navigation_links |
| | Pages | /admin/pages | /admin/customization/pages |
| | Profile Fields (feature flagged) | /admin/profile_fields | /admin/customization/profile_fields |
| Admin Team | | /admin/permissions | |
| Moderation | Reports | /admin/reports | /admin/moderation/reports |
| | Mods | /admin/mods | /admin/moderation/mods |
| | Moderator Actions | /admin/moderator_actions | /admin/moderation/moderator_actions |
| | Privileged Reactions | /admin/privileged_reactions | /admin/moderation/privileged_reactions |
| Advanced | Broadcasts | /admin/broadcasts | /admin/advanced/broadcasts |
| | Response Templates | /admin/response_templates | /admin/advanced/response_templates |
| | Sponsorships | /admin/sponsorships | /admin/advanced/sponsorships |
| | Developer Tools | /admin/tools,/admin/secrets, /admin/webhook_endpoints | /admin/advanced/tools,/admin/advanced/secrets,/admin/advanced/webhook_endpoints |
| Apps | Chat Channels | /admin/chat_channels | /admin/apps/chat_channels |
| | Events | /admin/events | /admin/apps/events |
| | Listings | /admin/listings | /admin/apps/listings |
| | Welcome Threads | /admin/welcome | /admin/apps/welcome |