Notification for mentions now available in mobile apps
Have your ears been burning? It's probably because someone mentioned you in a post or comment. While mentions trigger a notification on the desktop, they haven't generated a push notification for Forem mobile apps..until now!
Now available on Dev.to (and coming soon to other Forems) is a new option under Settings -> Notifications labeled 'Send me a push notification when someone mentions me':

Next time someone mentions you in either an article or a comment with the @username format, you'll receive a push notification. When tapped, this notification will take you right to the comment or article (it looks a bit odd here because I was testing locally!):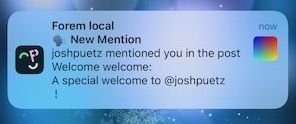 What notifications do you want to see next?
We're just getting started adding more notification types to the Forem mobile apps. What notifications would you like to see? Let us know in the comments below!