Hello, Creators and Happy March!
Following our ongoing theme of making the admin panel cleaner and more intuitive, we are rolling out improvements to the Member Detail page. This will make the process of managing your logged in users (also known as members) so much easier. Let's take a look around at the new interface.
You can get to this page by going to the People section of the admin panel and selecting a user. The first thing we did was bring the most important information about your members to the top of the page. This includes their status, contact information, social accounts, and important dates. Within this area you will be able to take administrative actions such as exporting their data, unpublishing their posts, or banishing them through the menu on the right.

Under the member overview, we have organized the most important information about the member into tabs. The Overview tab will give you a birds eye view of the member's roles, organizations, credits, and any tag moderation they have been assigned.
The Notes tab allows you and other administrators to make notes about the member that can only be seen by administrators. This is a great place to track any positive or negative interactions or facts about the member. In the Emails tab you can verify their email address, send an email, and see any previous communications.
The Reports tab is all about reports submitted by the Member while the Flags tab is all about any flags about the member submitted by a moderator.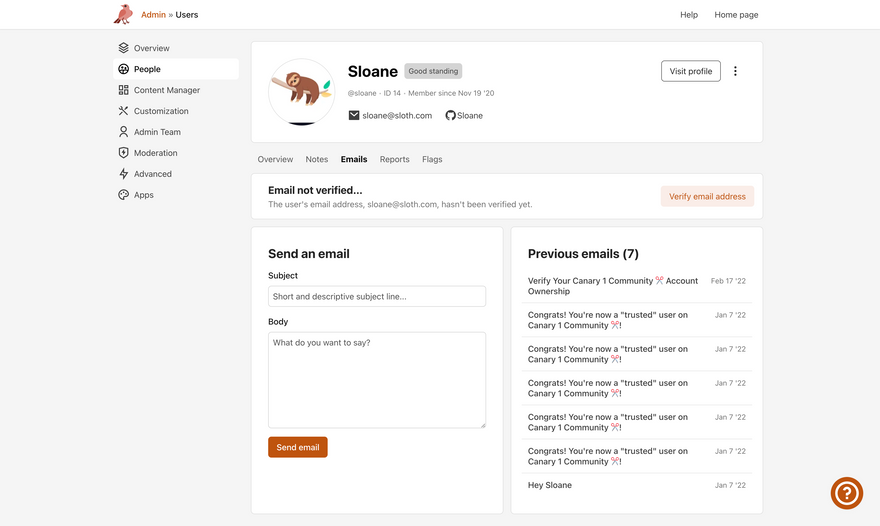 As with all our recent improvements, we have also greatly improved the accessibility of the page to be easily used with any assistive device. We are hoping all these changes to the member detail page will help you better manage your members.
Next up in the admin panel will be the member list page at which point we will officially rename this section from People to Members. As you can tell, we are making a lot of improvements to the admin panel to make it easier to find the settings you need.