Hello Creators!
We have made a ton of improvements to your ability to customize your email settings and default emails throughout the site. These changes are rolling out to Forems this week. Would love to hear your feedback in the comments.
Customize default contact email address
Previously, noreply@forem.com was being used throughout the site as the default email address. This included support pages, code of conduct, terms of use, privacy policy, and the contacts page. Unfortunately, this created confusion for visitors and frustration for Creators.
Now, you can go to the emails section of /admin and specify your own contact email, which will automatically update any place through out the site that was being populated with noreply@forem.com. We recommend using a generic email box that you monitor for member care questions and inquires.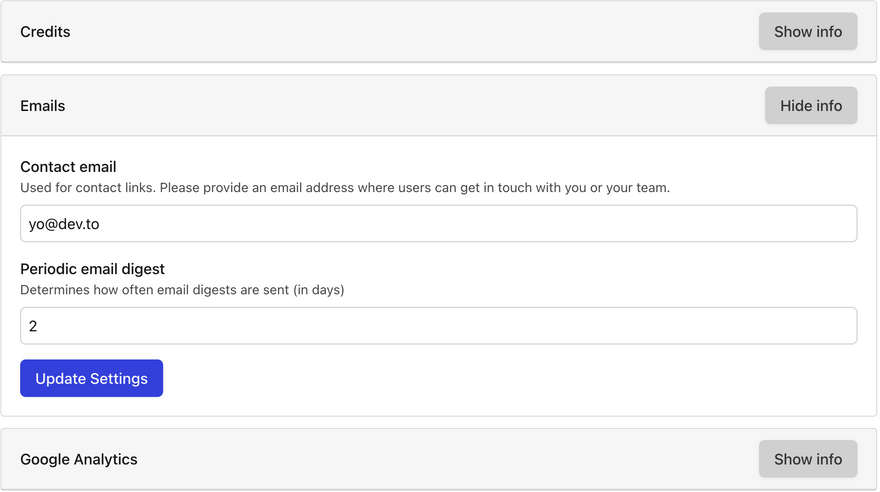 Cloud Creators can now provide their own email server settings
Previously, Cloud Creators could not configure their own SMTP settings and were limited to only use the Forem managed SendGrid instance which required the from and reply to email addresses to be noreply@forem.com. This is still a good option for Creators who don't want to setup their own email service. However, we heard from Creators who wanted more control of their own email settings. In addition, the way these settings were being used was not clear for our cloud partners.
Now, Cloud Creators can establish their own email server settings or chose to use the Forem managed SendGrid option.
If a Cloud Creator configures their own email server, they will also be able to setup the from and reply to email addresses. In addition, self-hosted Creators will be able to setup those email addresses as part of their SMTP configuration process.
Cleaned up settings location in /admin
As part of all these improvements, we took a lot at the layout of email options in the admin panel and rearranged these settings to make them more logical. In this case, we moved related email settings together and cleanup up some naming. In addition, we have been making improvements to the articles list in admin. Stay tuned to these pages, as we will be making a lot more improvements to /admin to make it easier to find the settings you need!