Keep in Mind
To make the installation process simple and more user friendly, I re-adjusted the initial ENV dependencies. Once you have successful installed your Forem, it is always advised to add few ENV variables to complete your Installation.
Post installation tips
I'm intentionally adding the post-installation guidance before installation screenshots. The very reason for this was, many tend to skip this part.
Take a look at the admin documentation.
Look about the supported ENV variables, to configure them for your self.
Create your admin account and configure the necessary
Before uploading any images, configure s3 bucket
Adding Honey Badger API key will give you info about any errors, if exists.
Once in a while, delete the existing script and download the latest version.
Watch this post-installation admin setup video for basic understanding, this video was created for Forem Cloud members, but if you have a successful installation, the post-admin-setup steps are almost similar. But before following this admin setup video, configure your s3 Bucket.
Now, keep these things in mind and continue your installation. The below mentioned video tutorial is about how to use t2d script to install Forem.
Tutorial
Screen Shots of t2d v2.1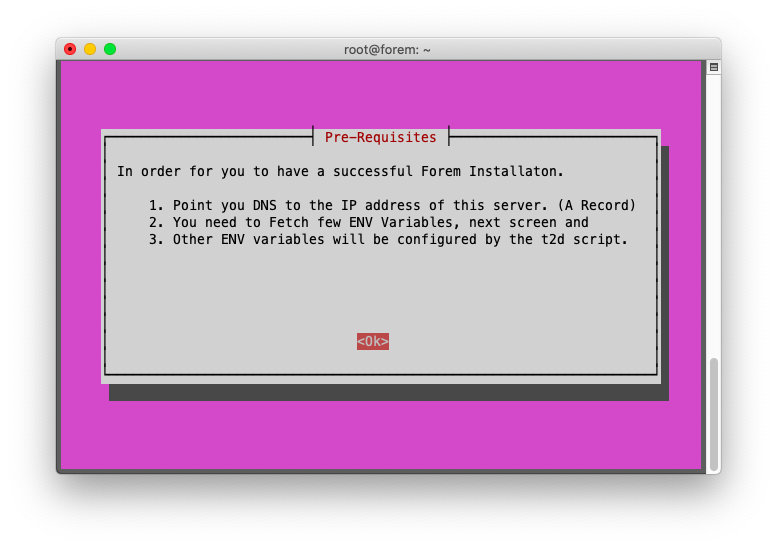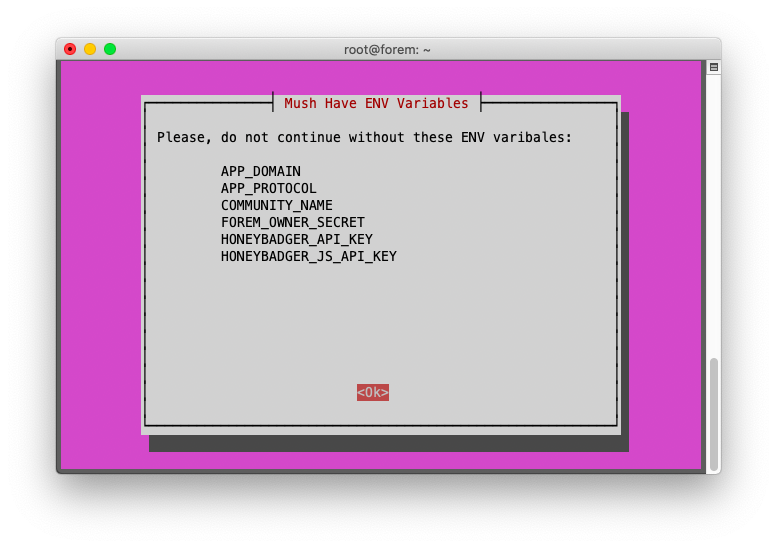 Press "Enter", to automate the Dokku installation. More information can be seen in the video above.
---
Once the installation was done, sometimes you need to update your ENV variables or Update your entire Forem instance with the latest changes.
You can also use t2d for post deploy configuration. Right now, I added only few very necessary options. This section of the t2d will update daily.
Repository
What is t2d?
t2d aka Talk to Dokku; is a beautiful Terminal User Interface(TUI) powered by dokku. With t2d you will be able to deploy apps in most popular programming languages, link them to most popular databases and all that with almost zero configuration from your side. Apart from all these amazing features it will also save you money along the way.
Our Vision
We started to work on this because current deployment solutions were expensive or hard to configure. With t2d we plan to provide a solution where deployment experience is smooth, enjoyable and affordable.
What is Dokku?
Dokku is Docker-powered Heroku-like tool that allows you to deploy complex applications by simply pushing it via Git repository. Behind the scenes it runs on herokuish, which essentially is emulating same functionalities that you are using when you deploy your apps on Heroku. As it supports all the Heroku buildpacks, it…