We need a new "universally useful" feature for our https://aechive.net Forem instance, but we need development resources to make it a reality.
The "feature" is a general information aggregation type of page that shares characteristics with the podcast page, and can be reused for the following aggregation purposes:
1) Video Channels - User can add their channel, page pulls new video content from channels on Youtube, Vimeo etc., displays to user.
2) Blog Channel Aggregation - User can add their blog, page pulls new blog updates from different sources, displays to user.
3) Technology Directory Aggregation - User can add their technology product listing, page displays to user.
For context, we envision the new pages to be made available on the home page, just like the other pages:

These will follow a similar format to the current "Podcast" page functionality, which includes:
Left-hand side Channels Listing
"Suggest a Channel" function, for community to add further channels
RSS feed of latest postings from listed channels
Indexing of authors & topics to support the "search" function
A user can click on a channels listing in the left-hand side navigation, the page will go to the listing of that channels only (ie similar to the podcast functionality)
Each Page has a "Suggest a Channel" function, similar to the podcast page, which will allow the community to add to the listing. It will launch a form to capture relevant information, including the RSS feed URL to add a listing.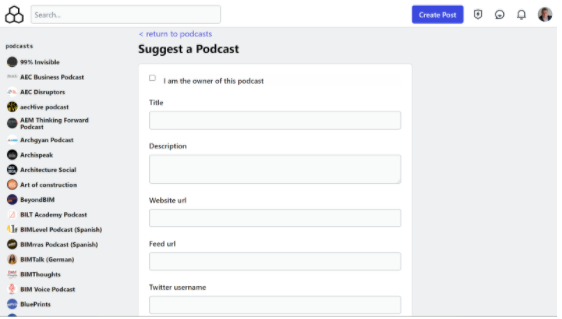 Here is a list of example data sources that we would like to be added:
Videos:
aecHive https://www.youtube.com/channel/UCZWENH2labx_hRken5A3AMw
The B1M https://www.youtube.com/c/Theb1mGoogle/featured
CITA https://www.youtube.com/c/Theb1mGoogle/featured
Technology Directories:
Aectech plus https://www.aecplustech.com/
Aec works https://aec.works/companies?sort=updated
Blogs:
AEC Business https://aec-business.com/
Hugh Seaton https://hughseaton.com/blog/
Can you help? Comment to let us know, please!