Hi,
This post outlines the specification for development work required to the aecHive community platform hosted on Forem.
The following 3 functional pages are required:
Video Channel Aggregation (Youtube, Vimeo, etc)
Blog Channel Aggregation
Technology Directory Aggregation
These will follow a similar format to the current "Podcast" page functionality, which includes:
Left-hand side Channels Listing
"Suggest a Channel" function, for community to add further channels
RSS feed of latest postings from listed channels
Indexing of authors & topics to support the "search" function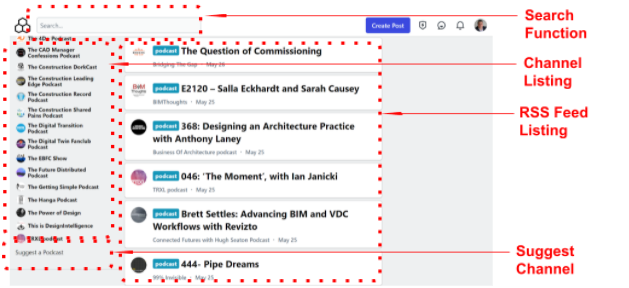 Once a user click on a channels listing in the left-hand side navigation, the page will go to the listing of that channels only (ie similar to the podcast functionality)
Each Page will have a "Suggest a Channel" function, similar to the podcast page, which will allow the community to add to the listing. It will launch a form to capture relevant information, including the RSS feed URL to add a listing.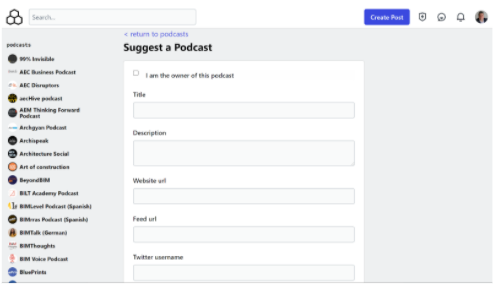 Example Listings: (to be added as part of the development, to test functionality)
Videos:
aecHive https://www.youtube.com/channel/UCZWENH2labx_hRken5A3AMw
The B1M https://www.youtube.com/c/Theb1mGoogle/featured
CITA https://www.youtube.com/c/Theb1mGoogle/featured
Technology Directories:
Aectech plus https://www.aecplustech.com/
Aec works https://aec.works/companies?sort=updated
Blogs:
AEC Business https://aec-business.com/
Hugh Seaton https://hughseaton.com/blog/
If you think you can help, please comment below or email john@bimlauncher.com to discuss this further.